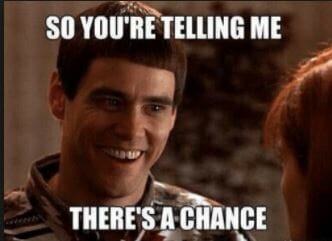 Winning the Lottery
Let's look at how you might "win the lottery" by selling your property for significantly higher than it is actually worth.  As rare as it is, this can and does happen.  I call this "winning the lottery" because the odds are similar.
The first step, naturally, is to substantially over-price your listing.  (You can't win if you don't buy a ticket!)  Let's say your listing is priced 10% or $50K higher than what similar properties have sold for, recently.  By the way, this is not uncommon at all.  I see over-priced listings like this literally every day.
So, why did you over-price your listing in the first place?  Here are a few possible reasons:
Your REALTOR® is inexperienced/unskilled and simply doesn't know how to accurately interpret the correct data, in order to help you in making an informed and intelligent decision on your list price.
You are emotionally attached to your home and therefore you have a tendency to compare all the best features of your home against the worst features of your competitors. Even though your REALTOR® is supposed to give you an unbiased opinion, he/she is afraid to be honest with you, for fear of contradicting you, and losing the listing to someone else.
Your REALTOR® knows that he/she is competing with other REALTORS® for the listing, so they purposely tell you an inflated price in order to "buy the listing", figuring that they'll work on getting the price in line later. "You can't reduce the price on a listing you don't have!"  I despise this phrase, but unfortunately, I hear it all the time.
First step completed.  Your listing is over-priced.  You've bought your lottery ticket, and – you never know – maybe you'll win!  Here are a couple of scenarios where you could actually win the lottery:
You list your house on Friday. On Saturday, eager qualified buyers fly in from Vancouver.  They're here on a one-day mission; to buy a house!  Your house happens to be the only one on the market at this time that has all the features they want.  They previously contacted a REALTOR® over the Internet to help them.  He/she seems super nice!  But, the truth is he/she is both inexperienced and desperate for a commission cheque.  The price seems cheap to these buyers because they just sold their tiny bungalow in Vancouver for $1.5M.  Their inexperienced/desperate REALTOR® is not going to try very hard to talk them out of it.  Guess what?  You just won the lottery!
Potential buyers contact your REALTOR® directly, because they've just started looking and they don't have their own REALTOR® yet. They don't have their own expert representation, they like what they see, they assume it must be priced accurately, and they are impulsive.  Guess what?  You just won the lottery!
Now, think about this.  What's more likely than winning the lottery?
Answer: Losing the lottery!
The odds are (99.9%) you're gonna lose.  Your house is going to sit there, and whether you get showings or not, you're not getting offers.  Nothing.  Not even a low-ball.  Why?  Because buyers are comparison shoppers, and they're able to clearly see that your house is over-priced compared to your competitors.  Even if you have very few competitors; or even assuming that every one of your competitors is also over-priced (extremely unlikely), the buyers' REALTOR® should be looking at the recent SOLD listings to accurately determine value, not the active listings.
Maybe your REALTOR® has done everything else right.  You've got a powerful presentation and it's generating plenty of showings. But it doesn't seem to matter.  You've got no offers.  Zero.  Nada.  Meanwhile, your competitors are getting sold.  By the way, you are probably helping them.  It doesn't take long for word to spread about your over-priced listing; some REALTORS® may now use your listing to sell others that are not over-priced.
After a while, it becomes very obvious that you're over-priced.  So, you drop the price.  Nothing.  You drop it again.  Nothing.  Now, you're in a downward spiral.  Guess what?  The buyers that saw your house before you dropped the price, have long-since written you off and they're not coming back.
Here's how this phenomenon works:  Potential buyers come to see your over-priced house early on in the listing period.  They do not see the value at this time, so they unconsciously convince themselves that they don't like 'this' and they don't like 'that'.  (If they do see the value, those objections no longer seem as important.)
Zoom forward a month or two. Now you've figured out that you're over-priced and you're dropping the price.  Maybe those buyers will come back.  Nope!  Even if they're still in the market (they haven't bought one of your competitors), they tend to only remember now what they didn't like about your house.  Very few potential buyers will do a re-boot, and say to themselves, "Well, maybe we should reconsider and see if those issues still bother us, now that the price is lower."  You normally have one and only one opportunity to impress a potential buyer.  If you over-price your house, you've blown it.
So, after much grief, frustration, stress, and price-dropping, you finally sell.  But the price you achieve in this scenario is almost always much lower than it would have been if you had priced it accurately from the outset.  You lost the lottery, and guess what?  It cost a lot more than a 6/49 ticket.
It's all about playing the odds, folks.  If you're a big gambler, maybe you want to try to win the lottery. I suggest you buy a thousand lottery tickets.  That is likely a lot cheaper than gambling on your house.
If you're not willing to gamble on your most important asset, your skilled, experienced REALTOR® will show you how to price your home accurately from the outset, in order to maximize the odds of achieving the highest possible price, in the shortest time, with the least amount of hassle.
And buyers:  Don't be the ones over-paying for someone else's lottery win.  Please, seek out your own skilled, experienced, and trusted REALTOR® to represent you.  Ask your family and friends for a recommendation.  You've got to be careful out there.
Until next month…