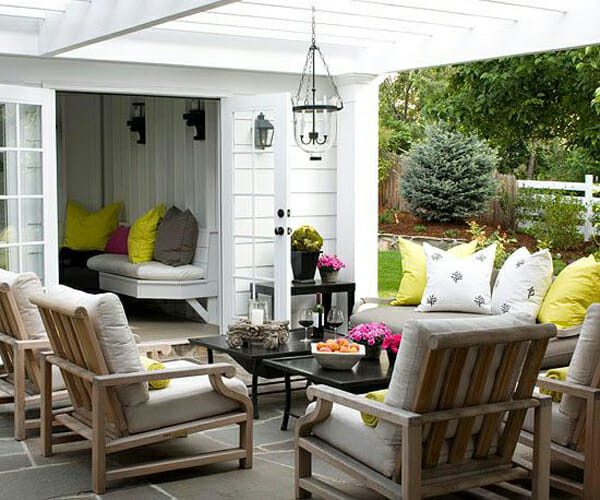 Outdoor Spaces
Even before our big 'spring' blizzard this past weekend, I'd identified outdoor living as a topic of interest.  With the winter storm warning, and white out conditions it really seemed like a fateful decision – similar to switching out your winter tires early!
It might actually be this extreme weather that makes Calgarians obsess about their outdoor space.  Our time is limited out there, and we want
to maximize every second!
When looking for a home, buyers are often very specific with their outdoor wish lists; a west, south, or southwest facing back yard, for example.  Locational scenarios are equally as popular, but often have a price tag attached – homes on a ridge, or backing onto a greenbelt or park command a premium price point.
While these locational features are highly desirable, most properties don't have them.  Some yards are very tiny, strangely shaped, or quite shaded.  Whatever the case may be, when listing your home the same rules apply to your outdoor living space, as your interior – put your best foot forward!
Some of this might sound elementary, but it all pays off.  This time of year lawns and yards can be brown, and tired looking.  Spending time or money on a spring clean up is well worth it to tidy leaves and debris.
If you have a lot of stone surfaces, get that power washer fired up!  Make necessary repairs to your deck, including restaining.  Repaint that front door.  Get to the garden centre and buy a few potted plants, etc.   Walking out of a beautifully maintained home into a fresh outdoor space shows not only pride of ownership, but it often extends the 'sense of size' of your  outdoor space.
Pull out all the ammunition when it comes to marketing your home!  In a competitive market like this one, everything helps.
The end goal is to have your home look as aesthetically pleasing as possible – both inside and out.  If you have any questions on your outdoor space, give me a call. I'll always give you the straight goods when it comes to selling your home.  I'd love to hear from you.
'Til next month – Marla