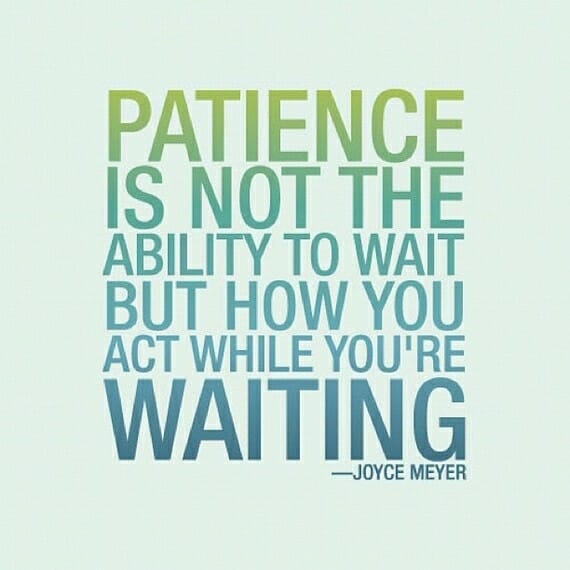 Patience is a virtue…
This year in Real Estate has been an incredible exercise in patience, and I fully expect the upcoming final quarter to test the virtue of all of us REALTORS®.
While the Calgary Real Estate Board sites a market 'Shifting to Stability', let's not forget that they have a responsibility to always put a positive spin on whatever Is happening.  And, they do a good job of it.
Five years of provincial recession, increasingly tight lending rules, an impending national election that may not be beneficial for Alberta, threats of a global recession, an oversupply of inventory, and continuing sluggish sales…
It's true that sales are slightly higher for the past three months compared to the same period the previous year, and inventory is lower.  However, cherry-picking this data and stating that the market is 'Shifting to Stability', is sort of like being behind 14-1 in the hockey game, scoring a goal to make it 14-2, and then saying, we're 'Starting a Comeback".
Despite all the general negativity, there are some bright spots.  In the lower price points, buyers are now able to attain home-ownership where it was previously not an option.  In the move up category, buyers can get into communities that were previously not affordable to them.
But for sellers, it's really tough, even with immaculate, well situated and seemingly competitively priced homes.  In some price categories, the absence of buyers is downright disconcerting.
Buyers are in the driver's seat.  They know they can take their time, and they have plenty of options.
I've read, "patience is not the ability to wait, but how you act while waiting."  This rings true with our current Real Estate market.  Constant monitoring and knowledge of what is happening, and the ability to adapt to this information is key.  The need for open lines of communication between client and REALTOR® has NEVER been more important.
We're succeeding on both the listing and buying side right now, largely through a combination of experience, knowledge, patience, and perseverance.  You CAN still be successful; it's just a lot tougher than it used to be.
If you want to chat about a personalized strategy to achieve your Real Estate goals, please give us a call.
Until next month…
Marla